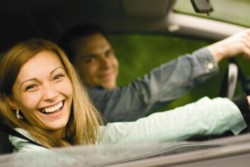 Please enter your name in proper case. (e.g. "Robert Jones" not "ROBERT JONES". Please note that the name fields do not accept punctuation such as periods and commas.)
Home address will be used for matching purposes and will not be shared with other commuters.
(Please enter your address information in proper case and without punctuation. Ex. "Main Street" not "MAIN STREET" or "MAIN ST.")
Please provide your mailing address if different from above. This includes P.O. Boxes.
We maintain a large database of registered work sites. Please use the "Select a Worksite" button to view our list of registered work sites. Please select your worksite if found; if not you may return to this form and enter the address below.
Please enter your work address information in proper case without punctuation. (e.g. "300 E Weber Canyon Road" not "300 E WEBER CANYON ROAD")
Our ridematching website includes a feature where potential carpool partners may contact you via text messaging. They will only be able to do so if you agree to receive text messages, and provide your cell phone number and service provider. The cell phone company you indicate is not given out to others.
Upon successful registration, we will send you an email containing a link that will allow you to set a password and activate your profile. To ensure delivery please add the email address "utarideshare@rideuta.com" to your spam filter's allow list.
UTA Rideshare Registration